5 figures on mobile audience in Ukraine
Mobile audience in Ukraine continues its rapid growth, which, after the introduction of 3G transferred to a real boom. And proper interaction with it – should already be an integral part of the marketing strategy, if not its basis.
March 25 the conference "New Media – New Opportunities", where New Business Director Admixer Ivan Fyodorov gave a presentation on trends in media consumption in Ukraine and the world. Here are 5 important numbers of mobile advertising from this report.
__________
2.5 billion
The projected number of mobile users in the world in 2016

__________
10 million
Ukrainians are actively using 3G-internet

__________
29%
the growth of mobile data traffic in 2015

During the 2015 Ukrainian sites attendance increased almost entirely due to mobile traffic. Index average daily share of site visitors from mobile devices grew from 29.6% in January 2015 to 36.8% in January 2016.
__________
22:00
Time of day, which accounts for the peak of accessing the internet from mobile devices

The mobile audience is different from the desktop, not only in volume, but also behavior. For example, if the user opens the desktop the first thing Google or another search engine, the user launches a smartphone app – messengers, application sots.setey, etc. In addition, there is seasonality Mobile: smartphone user is always online, as opposed to the user desktop.. Content consumption is stable and within a week, if a desktop is stable consumption during weekdays and on Saturday and Sunday – the failure by 40-50%, the content from your smartphone during the week consumed about the same.
__________
65,5%
Experts interviewed Admixer in January 2016, forecasting an increase in budgets for mobile advertising.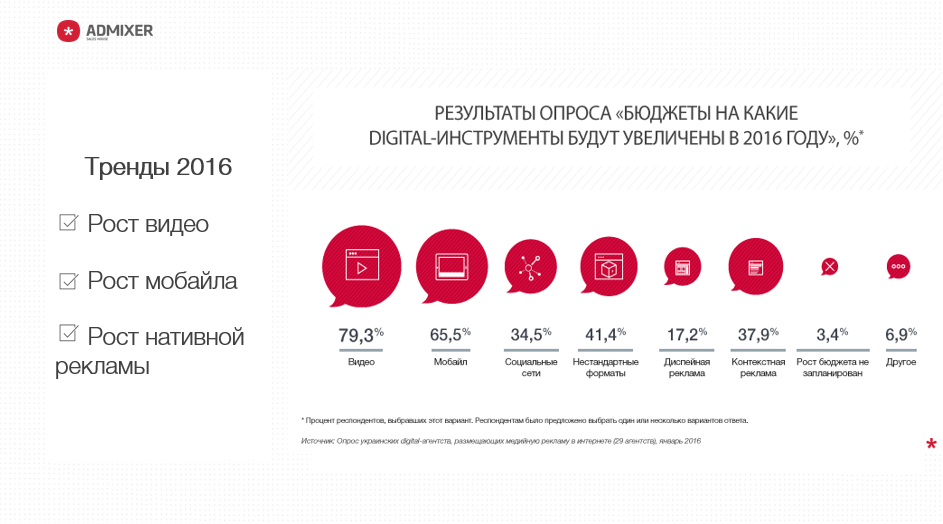 At the beginning of 2016, we conducted a survey of advertisers, advertising and communication agencies on the 2016 forecasts and expectations. Respondents vybmrali of several possible answers to the question "what Budgets digital-tools will be increased in 2016?". According to a survey Mobile was in second place after the video with the figure of 65.5%.
In general, according to our estimates, mobile advertising will grow by 3-4 times, and closer to the mark of 10% of the total budget.
In short, if you do not advertise in Mobile, it's time to do it, taking advantage of network services Mobile.Admixer .

mobile analytics research Presentations 03/29/2016