3, examples of successful special projects COUB
Advertising in Coub – is a relatively new and effective channel, which works great for recognition and support for the brand's image. Advertisers select Coub for male solvent audience, viral content, the opportunities for real-time marketing, creative special projects and the use of UGC (user-generated content). In Ukraine advertising Coub became available with January 2016. Consider the most striking cases of special projects with different possibilities Coub as a media channel.
1. Special project Star Wars
Objective:
Promotion of the 7th episode of Star Wars
Mechanics:
co-branding with the integration of a special project in the site interface: s Replacing Kobe loading bar in the editor, replacing the sound Kobe ready to roar of Chewbacca.
The users were invited to join a week of "Star Wars" on coub, creating Kouba of the trailers of the new episode of the saga, as well as to look for the secret Emoji. Top user Kobe with hashtag # probuzhdeniesily have been added to the page of the special project.
Results:
3,678,605 previewed
more than 143 000 unique views on the Landing for 2 weeks.
2. Special Project Lay's Maxx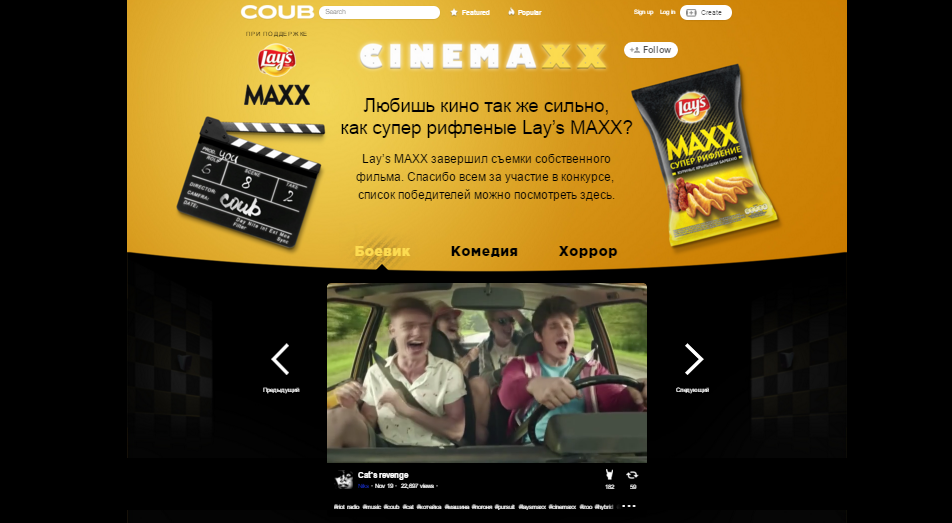 Objective:
The announcement of the launch of a new flavor Lay's Maxx
Mechanics:
The product promotion page with Kobe on the top platform of users, competition for the best Kobe hybrid of the promotional video of the brand. Also, specifically for the project has created several full copyright Kobe .
In announcing the new format was launched within the framework of the project "banner tag" is shown in the user's timeline while watching Kobe project. CTR format – 8%.
102 Kobe passed moderated and were added to the promo page
1,222,077 views Kobe project
over 100K unique visitors a promotional page for 2 weeks
3. Best COUBs 2015 (integration Beeline)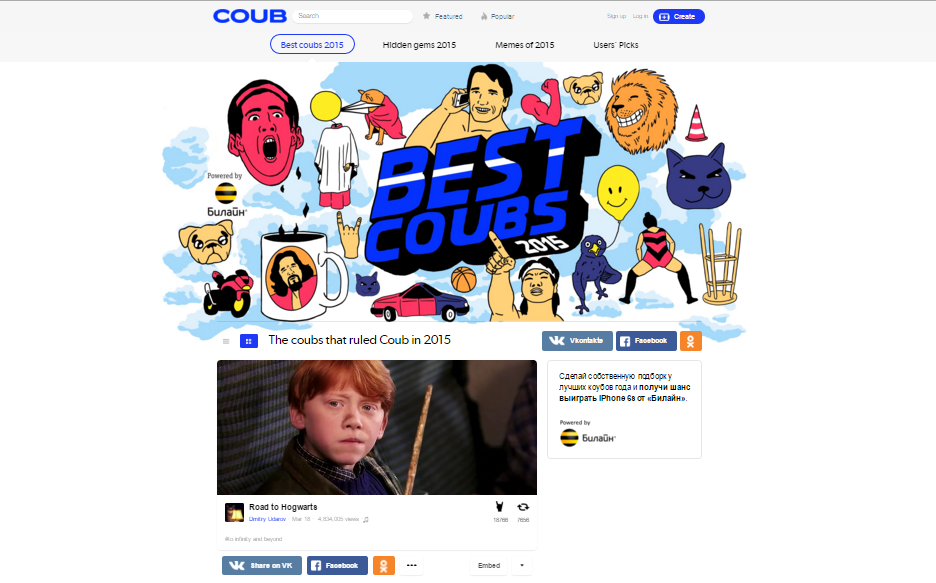 About the project:
The annual editorial special project in which selected the most popular Kobe for the year, "hidden treasures" – a potentially viral Kouba, who for some reason did not become very popular and did not collect the proper amount of views, and also advertised the most popular memes.
Mechanics:
In 2015, with the help of Beeline project partner in the project is a special functionality has been added that allows users to make their own selection of the best Kobe made during the year and win one of the prizes.
More than 1.2 million unique users on the project page
More than 10,000 custom collections Kouba
In general, coub gives advertisers the opportunity to spend really bright and effective special projects, increasing brand awareness and maintaining its image.
Admixer is the exclusive Celler Coub advertising formats on the territory of Ukraine for the order of advertising and special projects, please contact our managers .